Never flush a wipe
 Unlike "flushable" wipes, The UnWipe is safe for you, your plumbing, and your planet.
Never flush a wipe
Unlike "flushable" wipes, The UnWipe is safe for you, your plumbing, and your planet.
Never, and here's why!
It's not safe to flush a wipe, because they don't break down like toilet paper does. They can even have plastic fibers and binders. That clogs pipes, which costs folks like you more than a billion dollars a year to repair. It's not safe.
The UnWipe cleans safer, better
The UnWipe™ wipes replacement cleans better than toilet paper alone, costs less than the alternatives, and, unlike wipes, is totally safe to flush.
Level up your butt game with badass texture
The UnWipe puts a deep, rich texture on your own paper, and that cleans better. Simply press any toilet paper into the engineered mesh for ½ second, and wipe and flush like normal.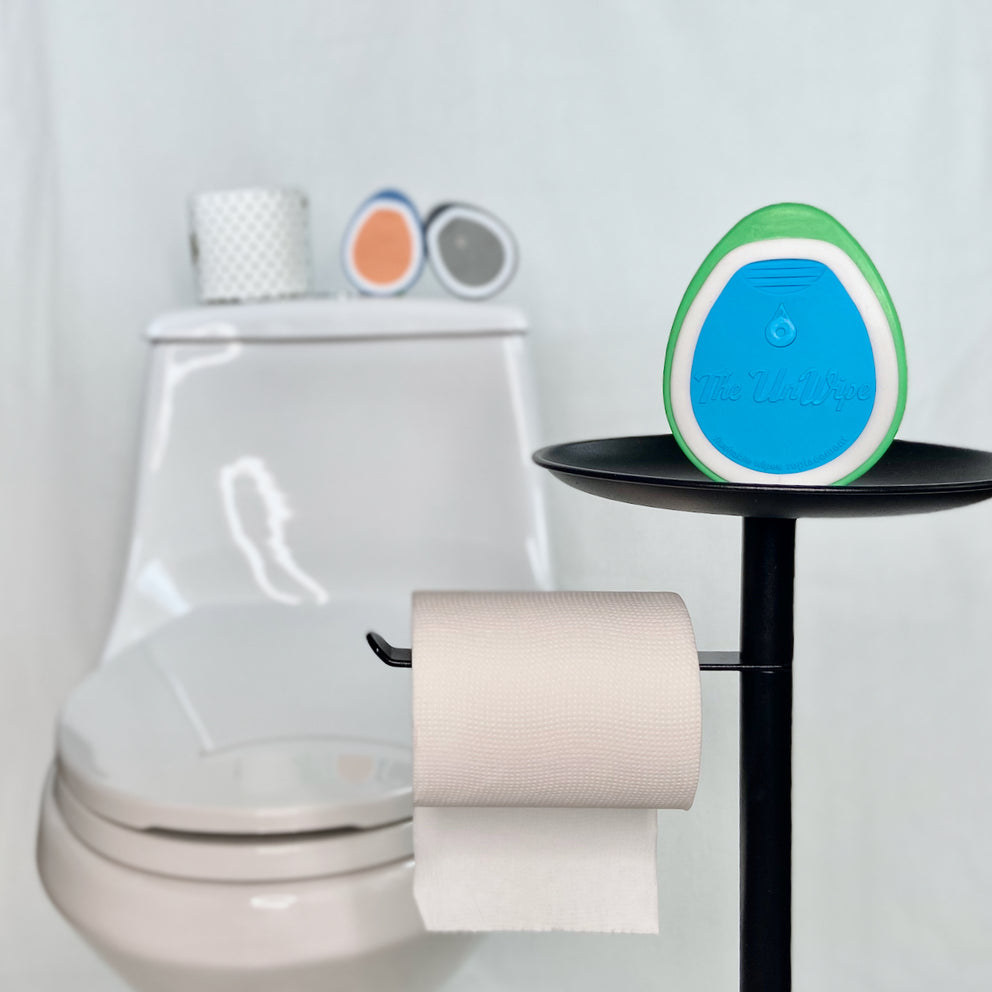 The UnWipe™ Original
from

$26.50

$34.00
The Sustainable Butt-Cleaning Solution That Leaves Nothing Behind (Except a Smile) Perched on the toilet seat, having finished what you were doo-dooing, staring at the scrunched paper in your hand. Will it clean? Is toilet paper by itself ever good enough? We all want a clean butt. Even if we don't say so out loud, can we talk about it just this once?  The UnWipe™ wipes replacement is the new and sustainable way to clean your butt (vulva, too!) every time, that you already know how to use. Activated with just clean water and no chemicals or fragrances, The UnWipe instantly upgrades your own toilet paper to lovingly clean all your nooks and crannies.  "The UnWipe uses water to transform your paper to make the texture that cleans your butt so much better – all in about ½ second!" It's not just making your paper wet – the magic is so much more. Press any toilet paper into its engineered mesh for ½ second. The result? The UnWipe uses the water to transform the paper to be surprisingly stronger, delightfully wet, and have kick-ass texture that cleans astonishingly well.   What you will feel is the cool cleaning superpower of that texture on your skin. What you will not feel anymore is what toilet paper used to leave behind ... on your behind. 1. Just add water. 2. Scrunch any 🧻. 3. Press. Wipe. Flush. 🍑❤️ THE PROBLEM WITH TOILET PAPER Billions of people like us use toilet paper every day at home, work, airplanes, highway rest areas, hotels, Mom's house. But toilet paper alone – even the good stuff – doesn't cut it. The cleaning is not as thorough as we'd like.   "Flushable" wipes help, but are terrible for your plumbing, your planet, and your wallet. Bidets aren't in most of the places you "go". What's a person with a butt supposed to do? INSTEAD OF WIPES With The UnWipe instead of wipes, you will: Stop plumbing & environmental damage caused by flushed wipes Spend a lot less money ... like, a LOT and, oh by the way, get a delightfully clean butt, totally cleaning what toilet paper alone does not Wipes cause terrible damage. They should never be flushed. The UnWipe cleans better, flushes safely, and costs less – a win for you on every level. DESIGNED FOR YOUR BODY AND YOUR CONSCIENCE Sleek, pocket-sized, no-plastic design Super-soft, hypoallergenic silicone Your toilet paper flushes safely for plumbing & environment Your senses will love The UnWipe. It's petite, curvy and colorful. It's soft to the touch. It makes your own paper feel softer on your skin rather than scratchy. It's quiet to handle and use, unlike the annoying crackly plastic bags of wipes (they're so loud in a stall, right?). It's fragrance-free. DO GOOD WHILE DOING LESS Unlike wipes, your toilet paper used with The UnWipe can be flushed like normal. You will feel good knowing that the next time there is a clog in the plumbing from people carelessly flushing wipes, it's not your fault! Whatever type of butt you have – smooth, rugged, big, small, tough, sensitive – The UnWipe cleans it better with barely any effort and for a lot less money. Shop The UnWipe now to rock your cleanest butt with confidence.   Every poop. Every day. Everywhere.